We're delighted that 'OET Preparation Nursing', co-written by Virginia Allum, SLC's Head of Medical English, has just won the prestigious 'Content of the Year in Higher and Further Education' award at the India Didactics Association.
Virginia wrote the sections on the Listening and Reading sub-tests, spending months developing the content to the exacting standards required by candidates to help them achieve the scores they need in OET Nursing to work as a nurse overseas.
"Helping nurses get to the level they need to pass OET so they can care for patients in English-speaking countries is something I feel passionate about. There are global shortages and enabling nurses to travel and work internationally makes an incredible difference, not only to them but also to the thousands of patients they care for and their many friends and families too."
Virginia was a natural choice for the team at Cambridge University Press (CUP). She wrote SLC's unique online OET preparation courses, Reach OET B Nursing and Reach OET B Medicine. These have been used by thousands of healthcare professionals as an integral part of their OET preparation programmes – not only on SLC's courses, but also on courses delivered by OET preparation providers worldwide. She has also written for OET and runs a popular OET blog and Facebook page.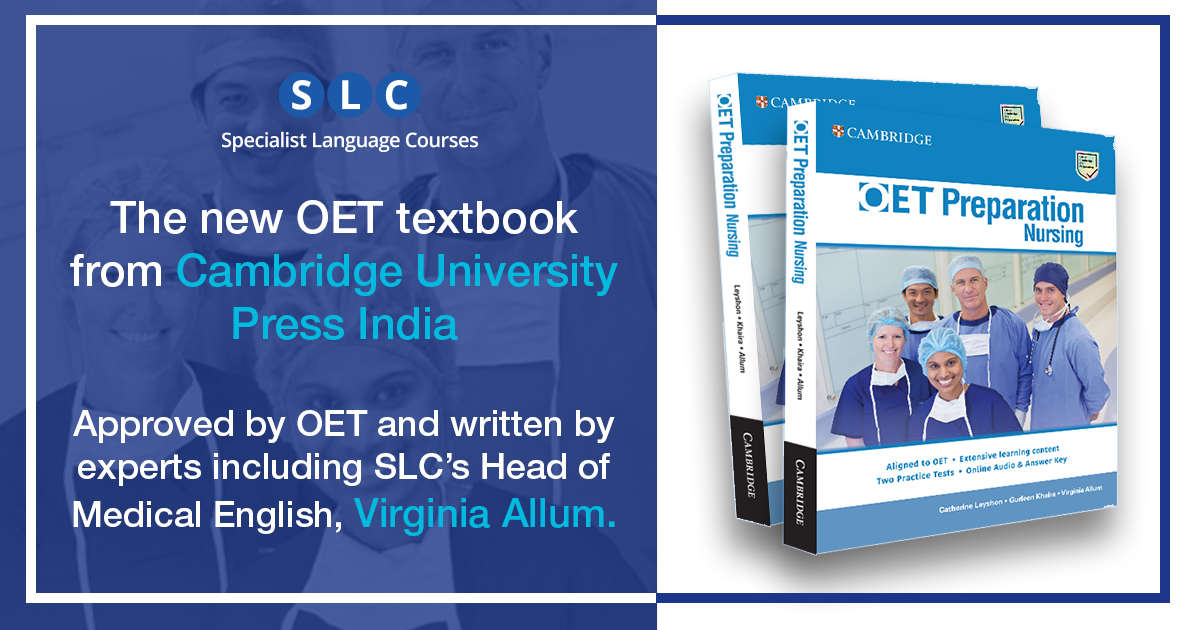 Virginia is a highly experienced Medical English writer. As an ex-nurse and nursing lecturer, she combines deep understanding of her subject with an ability to write effective and engaging content for healthcare students and professionals. Virginia wrote SLC's ground-breaking online Medical English language courses for doctors, nurses, carers and medical terminology, used by universities, schools and individuals around the world.
SLC is delighted to have Virginia on our team. She supports the academic department and teachers where her insight and experience make a real difference to how we prepare candidates for OET.
'OET Preparation Nursing' was published by CUP in India, the largest OET market globally, and will be available worldwide in the near future. See the rest of the winners here: http://awards.indiadidac.com/corporate/
Interested in engaging SLC to successfully prepare your staff for OET? Contact Peter Rodway, SLC Director, to find out how it works on peter@specialistlanguagecourses.com or +44 (0)7722 300278.