Alexia Sporidis, SLC's resident Nursing English expert, is giving a webinar this Friday on developing materials you can use to get your nursing and OET Nursing students speaking.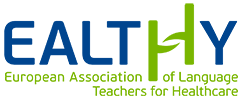 This session is presented in partnership with EALTHY, the world's leading association for teachers of English for Healthcare.
Alexia really knows her stuff. She teaches student and professional nurses around the world to communicate accurately, effectively and empathically with patients and colleagues.
Alexia has also prepared hundreds of nurses to pass OET Nursing so they can register to work in English-speaking hospitals around the world.
This webinar is for Nursing English and OET Nursing teachers.
It looks at three areas:
Using a patient information leaflet for vocabulary, collocation and role play

Using the SBAR communication framework to give an effective handover

Creating communication scenarios from scratch for OET speaking role plays
It has a strong practical focus so you will come away with lots of ideas you can use in your classroom.
The webinar takes place on Friday 22nd April at 10.00 UK time.