The Nursing and Midwifery Council in the UK (NMC) will run a public consultation to assess whether the current English language requirements for internationally-trained applicants need changing.
This is a positive response to a number of concerns raised about the current requirements. In many cases, nurses have not been able to achieve the scores in the English language tests set by the NMC - a B in OET Nursing or a 7 in IELTS - even though they have lived and worked in the UK for a number of years. Other nurses highlighted as not meeting NMC requirements hold a post-graduate qualification taught in English, or qualified in a country where the primary language is English but is not on the list of English-speaking countries recognised by the NMC.
Having reviewed the concerns, the NMC now consider there may be a case for changing the English language requirements and will seek additional evidence through a public consultation that will begin in June 2022 for eight weeks. They will then examine final proposals at their September meeting in order to implement any changes from October 2022.
The consultation will look both at the current language criteria and at whether alternative evidence of language ability should also be accepted. There will be a focus on three specific areas:
The scores accepted for language tests, including how applicants can combine scores across test sittings.

Whether evidence of non-registered practice in English, for example in a healthcare support role, supported by an employer reference or other evidence can be accepted.

Whether non-nursing or midwifery postgraduate qualifications taught and examined in English can be accepted.
Having prepared hundreds of overseas nurses and midwives for the OET Nursing test - and prior to NMC's OET recognition, for the IELTS test - we clearly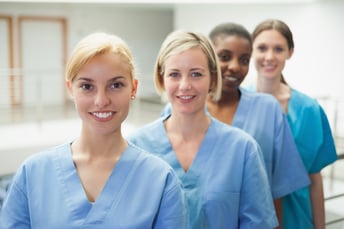 see the challenges that so many candidates face.
These challenges are varied. For nurses who have been out of formal education for some time, learning essential exam techniques and understanding how the marking criteria apply in practice takes time. Many don't have regular exposure to the type or level of English they find in the more extensive parts of the Reading or Listening papers. Others find writing or communicating using grammatically complex sentences difficult.
OET Nursing is an excellent test in many ways and certainly the best international test available to assess the kind of professional language nurses need to ensure safe and effective patient care. However, a B grade is high - advanced level or the equivalent to what a second year Modern Languages undergraduate in the UK is expected to have[1]. It's not an exam a candidate can simply do a crash course in and expect to achieve NMC required levels. Thorough and extensive preparation is crucial.
To understand the levels, skills and types of English required by nurses to deliver care at the standards expected of them and the best methods of ensuring this in practice is a complex issue that requires a nuanced, expert-led approach. We look forward very much to sharing our experience and evidence gained over the years with the NMC and those leading the consultation.
[1] https://web-archive.southampton.ac.uk/www.llas.ac.uk/resources/paper/2715.html